By Luke Davies
If you asked me back in February would the national lockdown have been for more than 6 months, I would have given you a straight answer and said "No". Maybe 3 months, but certainly not 6 months. That all changed on the evening of March 16th, I was in the Radio Platfform (RP) studio at the Wales Millennium Centre, when at 5:30PM, the daily press conference came on TV and with that all entertainment facilities would close until further notice.
This was to follow on Wednesday when both the school I work at announced it would shut its doors on Friday, followed by an email from our chairman of Radio Glamorgan (RG) that the studio would close, with all three closed within a week that felt like a body blow. This would be followed by the cancellation of projects I had planned for the whole year, I felt like my entire world had been turned upside down!
How did I get over it you might ask, how am I still standing, how have I not gone loopy you may ask? Well it wasn't all bad news, within an hour of Jamie sending that email, he got in touch with me and put forward a proposal to keep the station going. Each Sunday, I would "present" my GMRG live from my bedroom and for me this was a lifeline. I have loved broadcasting and I feared with not being able to access both the RP and RG studios I'd lose the love of the radio, but I didn't. I continued to present live shows from home for Radio Glamorgan and continued to work on broadcasting scheduling for Radio Platfform with the help of IT and the WMC, we have been one of the main reasons the centre is staying alive. I also took on a few other broadcasting projects, such as interviewing Nick Heyward, Owen Paul and Nell Bryden during the lockdown and broadcasting them on Radio Glamorgan.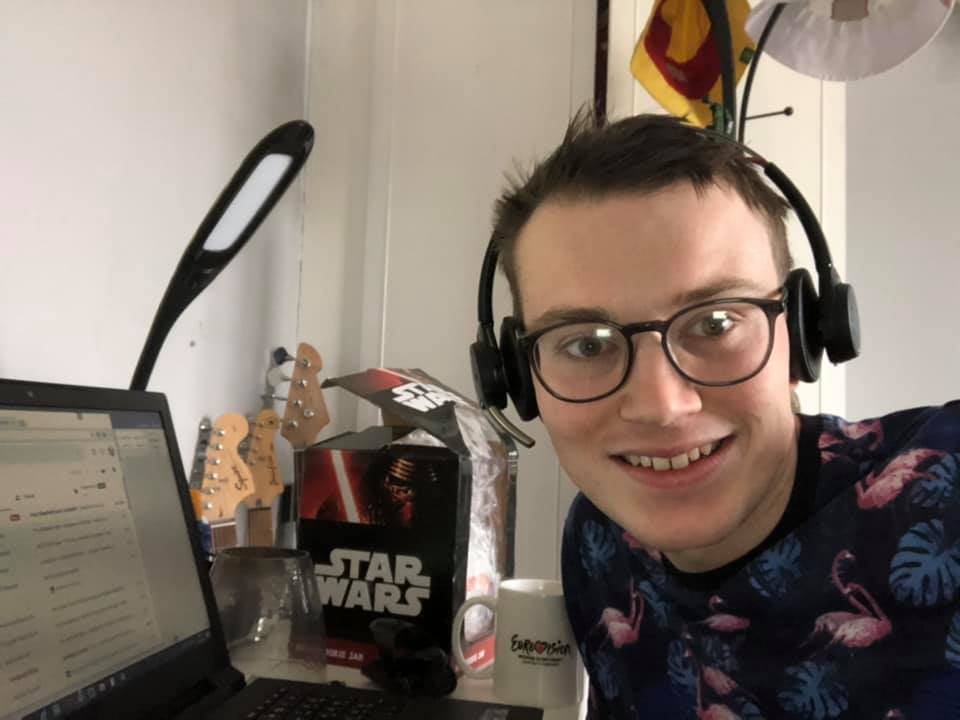 On the Platfform side, I began to get the hang of Zoom and reaffirmed my Radio Greats series and a brand new show called "Sgwrsio" where a fellow RP presenter alongside myself interviewed various personalities in the Welsh language industry, including Huw Stephens, Bethan Rhys-Roberts and Stifyn Parri, as well as organising a series of Radio Talks for our members.
So other than continuing the radio work, how did I get through the six months, what was my appetite you may ask? Well as soon as the lockdown began I decided I was going to learn the piano (which was never to be), learn to speak Welsh and also cook dinner. The parents and I decided to work on a rota, where I would cook for them once a week, and what did I cook you may ask? Well I made Sausage and Leek Mash Pie and a favourite called Sloppy Joe's Meatballs (which unfortunately my Dad took the recipe off me). With also now no more 9am start on a Sunday morning, it now meant I could binge watch on Sophy Ridge on Sunday.
The past six months have been rather mixed fortune for me, both emotionally and personally. Whilst I wasn't furloughed, I was able to keep both my jobs, in School and at the WMC but I did feel somewhat guilty about it when the WMC were making redundancies. I missed out on some fantastic opportunities for 2020 too, but it has given me some positives, with more time to devote to broadcasting, and more time to know the family a bit more. I've also got to know people outside of my family much better from all of this and met some new friends too. A big thanks does have to go to Chairman Jamie Pritchard, who for 6 months acted as GMRG's Producer for the show, he kept the ship steering in the right direction and kept radio alive when it has never been more important. I must also thank him for putting up with me on a Sunday morning and playing tunes that would be best off left in the GMRG vault.
Whatever 2021 will bring, I just hope it doesn't replicate 2020.