The Teenage Cancer Trust (TCT) Takeover is coming to an end.
The show that is heard on Radio Glamorgan on a Sunday afternoon, was created in 2016 to help patients during their treatment at the only welsh TCT unit based at the University Hospital of Wales in Cardiff.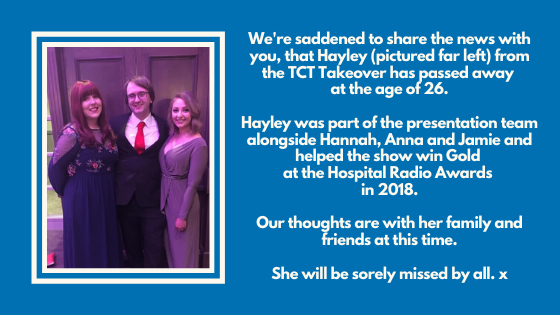 In a post shared on social media, producer Jamie Pritchard said:
"Hannah and I believe we simply cannot continue the show in its current form but before we bow out one final time, we want to pay tribute to Hayley and take a look back at the amazing few years we've had presenting the programme that has aimed to really shine the spotlight on the
Teenage Cancer Trust and the work it does to support young people and their families"
The pair who presented the first show in February 2016 alongside Anna Davies (Youth Support Co-Ordinator) will come together once more and broadcast the final TCT takeover later in December. The programme will feature tributes to Hayley and clips from previous shows over the last four years.
The show which also aims to raise the overall profile of the Teenage Cancer Trust, also won a national award in 2018.
The charity will still be featured on Radio Glamorgan in 2021, but in a slightly different form.
The final TCT Takeover will broadcast on

Sunday 13th December

at 7pm. You can listen online, on mobile and smart-speakers too.