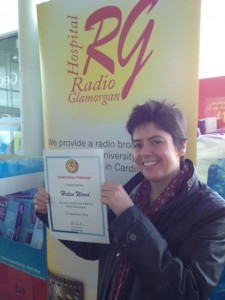 Fundraising is vital to our existence.
Radio Glamorgan is a registered charity (no. 504534) run by volunteers.
This means we rely on fundraising events and donations to deliver our service to the patients, visitors and staff at the University Hospital of Wales.
There are many ways in which you can help us raise funds. For example, you may wish to make a donation and/or provide a prize for a competition.
If you run a business you could also sponsor a weekly programme. You could even choose Radio Glamorgan as the beneficiary of fundraising events such as running a marathon. It is difficult to stress how important donations are: they keep the station going.
We are always looking for people with fresh ideas to help with our fundraising.
If you would like to become a fundraising volunteer, or if you are holding an event which we could support or contribute to, then please contact us!
Donations are hugely appreciated by our audience and all our volunteers.
Bucket Collections
We're going to be at Lidl, Roath (Colchester Avenue) on Saturday 20th July and Sunday 21st July
Come say Hi, if you're in the area!
Want to help us collect?
Do you own/work at a business serving the Cardiff and Vale area?
Submit a request here to have a Radio Glamorgan goblet at your workplace.