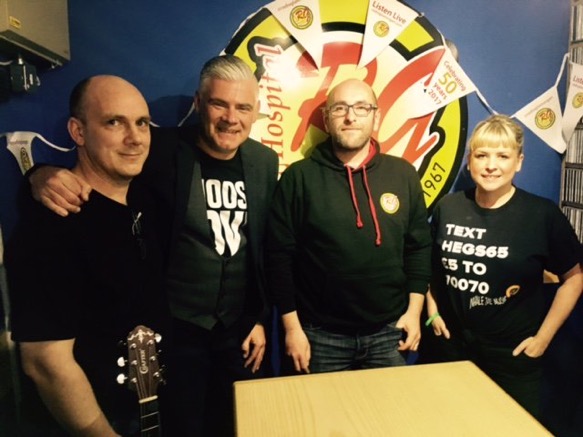 Inhale the Music, a World Record Breaking Music Event took place over 21 Welsh hospitals between 17th – 21st April.  Radio Glamorgan was delighted to be able to support the initiative with a live performance and interview in our studio.
Mark Hegarty frontman of Hegsy and The Elements played 4 concerts per day across Wales every day for 5 days between 17th – 21st April.
The aim of the tour was not only to raise much needed funds but to help raise awareness of Cystic Fibrosis and celebrate everything great about the NHS in Wales.
A special show was presented by RG volunteer Ben Gallivan so that Inhale the Music had a prime time slot on Friday afternoon.  An impromptu gig outside the new Aroma coffee show in the hospital also was part of the visit.  Ben commented – 'being able to use our service to promote health campaigns like this is a core element of what we do at Radio Glamorgan.  We broadcast great music and entertainment to help keep patients, visitors and staff company during their time at the hospital.  As we broadcast online they can also continue to tune in once they return home!'
Their performance and an interview with Bethan Clarke, organiser of the tour, can be viewed here:
https://www.youtube.com/watch?v=hfeWC6jFXhc