Strange. Unusual. Weird. Odd. Unprecedented.
Just some of the words you've definitely heard over the last few weeks to describe the Covid-19/Coronavirus situation.
The end of March 2020, lock-down restrictions were imposed across the UK which meant pretty much all of us had to change the way we do every day things, whether that be at home, work and even during our spare time.
Radio Glamorgan (RG) is run entirely by volunteers who choose to spend their time helping others and like most, it's been a real challenge to keep going but we've managed it so far.
A few weeks ago, we could've easily 'fallen silent' but for us that was a last resort as radio is a personal medium that some have described as a tonic in times of trouble.
We thought we'd share with you a mini 'behind-the-scenes', as being a volunteer at Radio Glamorgan is more than just 'being on the radio'.
Importance of Communication
We're a radio station and communication is our speciality.
For some of our volunteers, heading to the studio to present a show is a highlight of their week. Our studio access was naturally restricted due to the location (It's based right in the centre of the UHW in Cardiff) which meant that no live programmes could be broadcast from our base.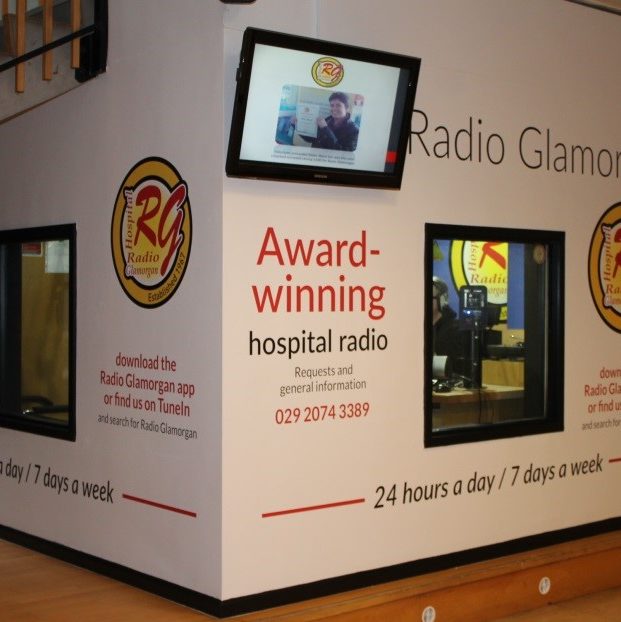 We have made sure that we'd kept in touch with each other, whether it be through regular emails, phone calls or WhatsApp group/conversations. As well as being fellow volunteers, we're also friends.
You hear a lot about mental health and how talking can help situations. This was certainly a priority for the trustees of Radio Glamorgan to ensure that every volunteer was keeping safe, staying well and also an opportunity to bring to the attention any queries or questions.
RG Quiz Evenings
On a Wednesday evening at 8.15pm, each volunteer took it in turns to host a quiz for the other volunteers.
Some put together specialist rounds on particular artists, news stories and of course as a radio station there were a lots of music rounds that tested some! These took place on zoom, so we could see each other and of course it gave everyone a chance to evaluate surroundings of where they chose to log on from (living rooms/gardens and at one stage briefly, a bathroom but thankfully the camera was off!)
Details here for our next quiz night where you can take part and help us raise money!
Video Conferencing
A short one, but we meet every so often to find out what's going on in the station, what's planned and a chance to bring up any suggestions. These meetings were still able to go ahead during lock-down, some pets even made an appearance.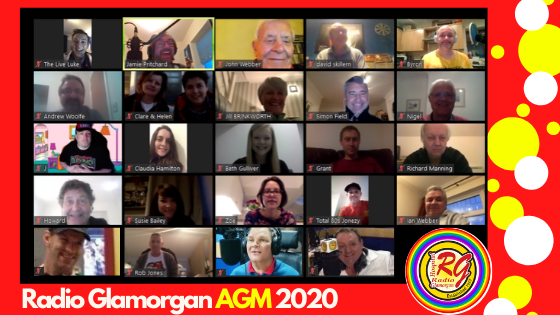 Presenting shows from Home
Our studios are equipped with everything that's needed to do a radio show, so why would you need equipment at home. Well before the Covid-19 pandemic that would be a fair assessment but without the studio the ability to do a show is a real struggle.
We were successful with applying for a grant which gave us the opportunity to buy and send out microphones to volunteers. All they had to do was just plug it into their laptop/computer and record their voice alongside sourcing tracks to play as if they were planning on heading to their studio. It also gave many something to do when they weren't working from home or at that point already back from their one daily walk.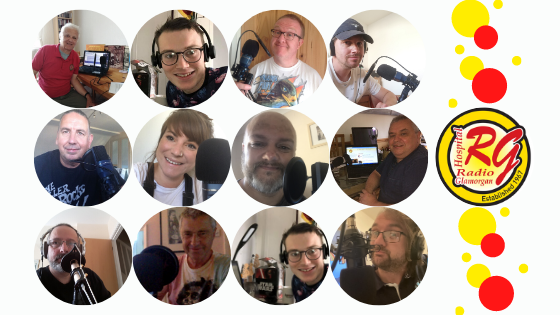 Technology really does play a huge part in this as volunteers creating and presenting shows is one thing, but how on earth does that show make it to air? Thanks to the internet, remote access and our wonderful infrastructure managed by a dedicated engineer (who is also a volunteer) this was made easier than first thought for all!
We've seen some of the feedback on our socials/email and we're really glad you've embraced the 'new sound' of the shows from home some with the odd car revving in the background, even birds chirping!
Our lockdown request hour was also a hit, with many of you getting in touch requesting songs for patients who weren't able to have a visitor or two.
Finally…
In all walks of life, we have all learnt a lot about overcoming hurdles and achieving more than we thought we could prior to the restrictions.
All of the volunteers at Radio Glamorgan have positively embraced change and noticed that the possibilities are certainly not limited.
We also know (because we've seen the figures recently) that more of you have tuned in recently! We're really glad that we have been able to keep you company during this time and post-pandemic, hope to continue to provide a service for you for many years to come.
We hope you'll continue to support us and the work we do too, with our main priority of keeping patients occupied when visitors are limited … and of course a huge shout out too to the brilliant NHS/Care staff, who do all they can to help those staying in hospital, whether that be at the bedside, in the kitchens or keeping everything clean.
For the next few weeks, we're still presenting shows from our homes but it won't be long before we're back in our studio with a full schedule and volunteers ready to play even more of your requests.
Thank you for reading!
Written by Jamie Pritchard, Chairman of Hospital Radio Glamorgan