On Saturday 25th March, volunteers from across the UK gathered in Bolton for the Hospital Radio Awards 2023.
Held in a really picturesque venue, the annual award ceremony showcases all that's great about hospital radio from all corners of Great Britain.
This year, Radio Glamorgan were shortlisted for three awards:
Best Promotion
Best Newcomer (Sam Rees – Weekend Breakfast)
Station of the Year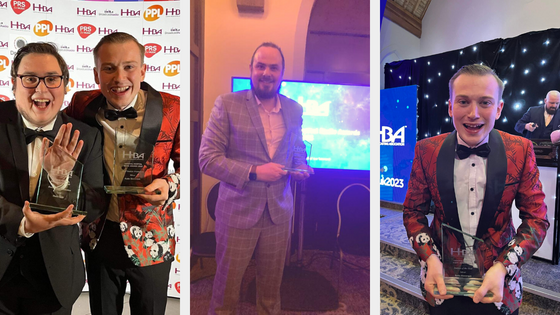 We're over the moon to be bringing back to Cardiff, TWO silvers and one GOLD!
Our first silver was for Best Promotion (for a little trailer that our Chairman produced featuring voices heard on RG) with the gold award going to a fellow Welsh station Radio BGM.
Our second silver was for Station of the Year, meaning we are once again second in the UK for the second time in three years.
Sam Rees who was shortlisted in the Best Newcomer category picked up the GOLD award. Sam who presents Weekend Breakfast 8-10am on a Saturday and Sunday, officially joined Radio Glamorgan in March last year, having been on the waiting list to join the station since the start of the pandemic.
Chairman, Jamie Pritchard said
"This is a fantastic achievement for us as a station. In some aspects, we're still trying to recover from the Pandemic and the effects it had on the way we operate in terms of gathering requests and letting people know that we're here for them day and night to keep them company.
Sam thoroughly deserves the best newcomer accolade, his enthusiasm since he's joined the team has been infectious and I am really chuffed that he was there at the ceremony to pick up the gold award in Bolton on Saturday Night"
Sam Rees added;
"The team at Radio Glamorgan are so supportive, through thick and thin. I've been welcomed with open arms and it was well worth the wait since submitting my application form back in 2020. I need to find a place for my award now, something I'm going to treasure for a long time!"
You can watch the moment where it was announced that Sam won below…
Overall, it was a successful night for welsh stations with Radio BGM (Llanelli) picking up three awards and Radio Ysybty Gwynedd (Bangor) who picked up one.
You can see the full list of winners here on the Hospital Broadcasting Association website.
Thank you to everyone who supports Hospital Radio and the work that volunteers undertake every week!