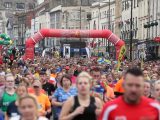 The annual event takes place on Sunday 6th October. Thousands will take to the streets of Cardiff and Penarth on that morning, most are raising money for charity. All the best if you're taking part, but if you're not … why not line the route and cheer on those who are? GOOD LUCK!
---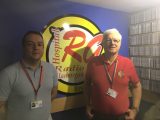 Share your experiences of hospital care for people with dementia at University Hospital Wales, Cardiff on Monday 21 October. Evidence has shown when a person living with dementia is admitted to hospital they are often at their most vulnerable. For many, their health will suddenly deteriorate upon admission. Alzheimer's Society Cymru is working with the […]
---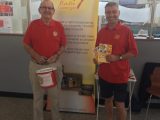 Just to say, a huge thank you if you donated to us earlier today in the UHW Concourse. Next few dates we're going to be out with our collection buckets… Sunday 20th October Sainsbury's Thornhill – 10am-4pm Monday 28th October UHW, Heath Hospital Concourse (Down the corridor from our studios) – 8.30am-5.30pm Saturday 9th/Sunday 10th […]
---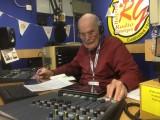 Since the 4th June 2019, the Radio Glamorgan studio has been called the "John Wilce Studio". It was renamed in honour of a dedicated volunteer John Wilce who died after a short illness on this day last year. Today (14th September) we remember John by replaying some programmes he had recorded, heard in amongst our […]
---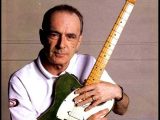 Last Sunday on GMRG, Francis Rossi of Status Quo had a little chat with our Live Luke! Listen back to it here
---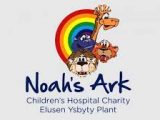 The Noah's Ark Children's Hospital for Wales treats 73,000 children a year. Raising funds is vital to provide life saving equipment and world class facilities. (Reg.Charity1069485) www.noahsarkcharity.org Nigel Moore welcomed Bethan from Noah's Ark Charity to his show. Bethan explained what the charity does and how you can help. Click the play button below to […]
---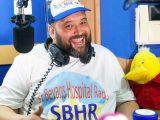 Katherine Chandler's touchingly funny monologue, starring Christian Patterson tours venues in Wales this autumn. Peggy's Song, which was originally commissioned as part of National Theatre Wales NHS70 festival last year, will now tour across South and West Wales, opening in The Riverfront, Newport on 25 September 2019. Katherine Chandler's play that celebrates the volunteers of our […]
---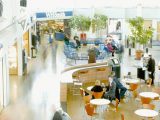 We've been working really hard behind the scenes to be a lot more visible within the hospital we serve, as well as being heard! You may have noticed our logo popping up here and there over the last few weeks on the Cardiff & Vale Health Board LCD Screens and on bits and pieces of […]
---
On Monday 26th August, there's going to be a few changes to our usual schedule of programmes. Take a nose at the alterations below, tune in and enjoy! 6am – Early Bank Holiday Breakfast News, Weather and some great tunes to start your day if you're up early 8am – Number Ones Brunch Every tune […]
---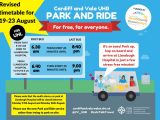 The Multi-Storey Car Park at Llandough Hospital will be temporarily closed for a week from Monday 19th August. The Cardiff and Vale Health Board are encouraging you to use the new Park and Ride service which runs from the old Toys'r'us Car Park opposite the International Pool (Sports Village).
---