Forget the food for a sec, we've laid out a generous offering for you this Christmas on Radio Glamorgan.
The Friday before the big day (23rd December), we'll play you lots of Number ones on RG Breakfast, get you singing as if you were on Broadway, keep you updated as to what's going on in the sporting world over the festive period and of course play lots of your favourites to keep you company.

Then on Christmas Eve one of the newest recruits to Radio Glamorgan Sam Rees, will guide you through the morning with a special weekend breakfast show, followed by a wide range of festive shows to get you through the day. As the skies darken, at 6pm the Midweek Mix team will present a special edition of their show, followed by a Christmas story hour at 8pm for you to settle down and get cosy with.
As the clock strikes midnight and Christmas eve becomes Christmas day, we'll play non-stop festive tunes advert free up until 5am followed by lots more special shows for you to enjoy, including another of our new recruits, Jayne Jones presenting a special edition of her show at 1pm. Hannah will also unwrap a load of festive favourites from 7pm too.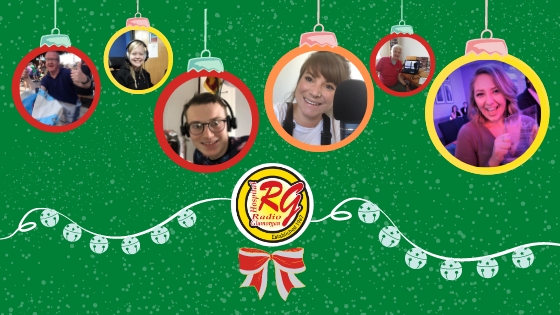 Wherever you're spending Christmas, we'll be here for you with lots of shows to keep you company.
Check out our full schedule for Christmas 2022 here