By Howard Jacobson
Wow where to start!
In my day job at Business Wales, I get to meet a whole range of partners and businesses and it was on one such occasion during a meeting with an NHS Trust at the end of February that I realised the virus was a reality and life was about to change. 
I was with one of the staff waiting for others to join in with our meeting and it was obvious that something of significance was going on nearby. I was introduced to the pathology team and was told that the first case of Covid19 was just diagnosed in that hospital. The rest is history they say.
Since then my work has been incredibly busy as the team in Business Wales put together a strategy that would support businesses to survive and pivot. On the positive side, we have seen SMEs change the way they have been trading and many people have been helped to start up new ventures. During this time, I was seconded to Welsh Government to access grant applications which have been of invaluable help in a time of great need and we continue to support small companies and partners such as the NHS, local authorities and new projects to keep the economy going and plan for the future. 
We have had to think of new ways of delivering this support virtually and this has been so successful for the people we support that I believe this will be the model for the future. We have also been told that in future working for home is the new normal.
I also volunteer as a First Responder with the Welsh Ambulance Service and have to say that a few months ago without PPE, things were more than a little scary! Indeed, it was soon decided that it was too dangerous for us to respond and we were stood down for at least a couple of months until PPE was made available and new protocols were put into place time we have been. This has involved new training, including how to 'Don and Doff' full PPE suits for a paramedic. This has meant opportunities to accompany paramedics in their blue light vehicles and assist them in some very 'interesting situations' I've personally never cleaned so much in my life (don't tell the missus!).
Recently, we have received up to date training in how to carry out CPR in full PPE suits and this has made me realise even more how absolutely awful it must be to work in extremely challenging conditions in long NHS shifts. Experiencing all this has made me an angry person when I see people either dismissing Covid as a hoax or simply ignoring social distancing.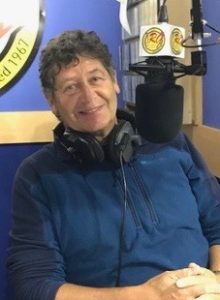 As a Trustee and presenter at Radio Glamorgan, it's pretty sad that we have had to make decisions about broadcasting live from our studio (some may feel relieved that they don't have to listen to my Powerd by Howard Show). When I was being interviewed to become a volunteer, Helen Ward who was recruiting at the time said if you could make one person smile during your show, you have done your job and I try to do that during my live show. So its really unfortunate that I cant do that regularly at the moment. However, we have all been working hard to deliver virtual live shows and I'm really proud of my fellow volunteers who have given up so much of their time to keep things flowing.
Family life has obviously been affected too. You cant see your family or friends as much as you would like and I miss going to football every weekend to watch
my son play
.
I do believe that although more waves will come, we are more prepared now and we are over the worst. I'm an eternal optimist and can only see greater and new horizons ahead.
You can usually hear Howard on a Monday night between 6-8pm on Radio Glamorgan